When
Course Name
Location
Duration
Venue
Cost
14 May '11
10am-7pm
15 May '11
10am-4pm
Canvas Printing
for Profit
Melbourne
2 day
Weekend
Braeside, VICTORIA
$450+GST*
13th Aug '11
10am-7pm
14th Aug '11
10am-4pm
Canvas Printing
for Profit
Melbourne
2 day
Weekend
Braeside, VICTORIA
$450+GST*

Canvas Printing for Profit

Canvas Printing for Profit - All New Course Material and Exercises

The GMS Canvas Printing for Profit course is unique in teaching canvas printing from a purely commercial perspective. Designed to smooth the transition of the minilab owner, artist or photographer into the digital age it concentrates on the required skills, exposing the student to all the latest technologies and equipment in an entirely new facility built for the purpose of hands-on education.

The 2010 Canvas printing for Profit Course has been further upgraded to include MAC OS/X Snow Leopard and Microsoft Windows 7 64 bit printing interfaces along with the traditional Windows XP. Also new for 2010 are additional options for "canvas on board" framing along with the more traditional stretching techniques.

Canvas Printing for Profit students will have access to a choice of Epson 9800, Canon 9100 (60 inch) and Canon 5100 wide format equipment. Desktop Epson R1900 equipment is optionally provided. Photoshop CS4, QIMAGE and open source GIMP software is provided along with the standard Epson and Canon printer drivers. Framing equipment includes both manual and pneumatic underpinning equipment, framing guillotines, HVLP turbine spray guns,matte and glass cutters. We have also added optional units for those requiring specialist art copy knowledge where the student now uses our new 300 Mpixel art copy camera or Canon digital SLR's. Specialist daylight fluorescent and/or flash lighting is also provided so the student can make high quality color art reproductions on canvas. This knowledge can be applied to the use of a home flatbed scanners or digital cameras.

The canvas display options are further enhanced with stretcher free iBlock options for those already skilled in canvas stretching or with 13" or 17" inch desktop pigment inkjet printers. The GMS 2010 "Canvas printing for profit" now allows the student to have hands-on exposure to almost all canvas printing and presentation techniques available in the industry today and allows time for specialization due to the low student to teacher ratio.

GMS also provides gourmet food throughout both days in the admission price. With a now vast array of equipment and dedicated facilities there isn't a better way to learn how to print and present inkjet canvas which is the digital successor to the minilab. At the end of the course, each student should have developed an in depth understanding of all the processes related to high quality inkjet canvas reproduction and produced a cost model for doing so that will see you create a long term profitable business.

Duration:

2 Day Weekend or 4 Nights Weekdays

Who should attend?

Photographers, artists and lab staff contemplating purchasing an inkjet printer to make high quality canvas prints or existing users wanting to enter the canvas printing trade. Advanced amateurs or part-time professionals seeking to get the best out of fine art printing or photography with a focus on canvas printing may also find the course suitable.

Class Size:

2-4 students per class to maximise hands on instructor interaction.

Prerequisites:

Students need to bring a few typical file in TIFF, PSD or JPG format, which will be converted into a canvas image. USB drives and memory sticks are preferred. Artists may find it easier to bring an original artwork for student copy during the course. Knowledge of Microsoft Windows XP, Windows 7, OS/X and Photoshop CS4 is assumed.

Description:

Intensive classroom course featuring hands on color copy, scanning, profiling, printing, retouching, liquid lamination, frame making and canvas stretching.

Students will produce high quality colour correct canvas prints from supplied digital files or original artwork and learn how to present them in an archival manner.

Students will have a choice of producing results on the latest Epson and Canon wide format printers and can use these results to formulate purchasing decisions. The printing and presentation of fine art papers, signage and inkjet photographic papers is also addressed.

The course focuses on the financial aspects of canvas printing, loss and reprint rates and supplier material costs.

If the student has attended both and produced images of an acceptable standard GMS will grant that business the right to use The Giclee System logo when canvas prints are sold to customers using the process. This logo carries a GMS guarantee of archival life, backed by fade tests for certified canvas and laminate types.

Material Supplied:

GMS will supply access to Epson and Canon printers and canvas materials. Students will also have access to an x-rite i1 and/or i1 Io, i1 Photo and/or Profilemaker 5 software, Apollo 725 HVLP turbine spray unit, Aquathane-UV liquid protective coatings and GMS stretching machine.

Optional equipment includes a 60 inch 8 ply matt and glass cutter and the art reproduction equipment and photo studio.

Curriculum:

Day 1. An introduction to inkjet based fine art printing.

Day 2.
a) Printing and coating the image.
b) Stretching the canvas and review of the process.

Reproducing Fine Art on a Budget

Duration:

1 day 9:00 AM – 10:30 PM

Who should attend?

Photographers and lab staff who need to make colour accurate copies of fine art such as watercolours, line drawings and non-reflective oils.

A one metre by one metre acrylic painting will be copied and a colour perfect life-sized reproduction made on fine art paper.

Class Size:

2-4 students per class to maximise hands on instructor interaction.

Prerequisites:

None, although it is preferred that students have knowledge of Canon full frame DSLR cameras. Knowledge of Canon or Nikon APS-C sensored cameras is acceptable.

Description:

Students will learn how to light low reflective artwork using common studio flashguns and make colour perfect copies using RAW converters and the Swedish QP 101 grey card system.

Students will also learn how to use professional 16bit stitching programs to increase the megapixel count of common DSLR cameras to make them suitable for enlargements.

An opportunity will be provided for the use of modified Canon and Pentax Medium Format lenses for fine art copying.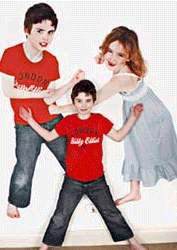 REVIVA - The Wallpaper Revolution!
Now print wallpaper, cutout figures, backlits and trade show signage with a normal wide format printer.
New Revivawall is a permanent yet removeable self-adhesive woven fabric, prints with bright colors and is water-resistant, opens up new business opportunities for wide format owners.
Order Now!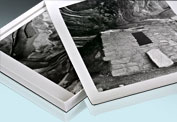 Now the darkroom is really dead.
Announcing Moab's Fabulous Colorado Fibre Gloss

Read More