What is the Giclée System?

GMS's Giclee System is a matched set of products that are guaranteed to produce the best possible results with the  longest possible longevity.

The system consists of one of the industry's best image capture devices, independently fade tested inkjet canvas and liquid laminate coating, pigment inked wide format printers and archival presentation techniques.

The Giclee System is formally directed at the coping of fine art and its reproduction on archival canvas however many aspects can be utilized when printing fine art or photo papers for other purposes. 

The system consists of:

The Pentacon 6000S Scan camera and Schneider Componon HM APO lenses.

When coping fine art only a true tri color CCD capture with the worlds best German made flat field lens is acceptable. 

The system has recently been enhanced with special IR and UV band stop filters for more faithful color reproduction and new high CRI fluorescent lamps.

InkjetPro Premium Edition Canvas and InkjetPro Aquathane-UV liquid laminates.

Canvas doesn't have thick glass to protect it, nor is it in a book. GMS tests at an independent US institute that doesn't reply on funding from ink makers. GMS also tests and publishes OBA fade, that is fade or stain in a pure white patch.

Pigment Inked Wide format Printers.

GMS tests with the Epson Ultrachrome K3 inkset  as it is know from well published, independent of ink maker testing.  to have the shortest longevity when compared to HP and Canon pigments  This means the results are a practical lowest bounds – a conservative approach. 

Apollo Turbine HVLP spray guns.

The consistency of the coatings is of paramount importance and only turbine HVLP is able to deliver a consistent coating due to its constant 4PSI pressure that does not come from using a compressor. There is little or no overspray.

Regrowth Pine Stretcher Bars.

GMS does not use nor recommend rainforest timber, sharp edged bars that were made for painting nor hardwoods. Only pines with low tannins are recommended. The Giclee System requires that the result should be visually attractive and that means the bar wall standoff width must vary with the canvas print size.

Modern framing methods mean that there are now other archival techniques such as acrylic encasements.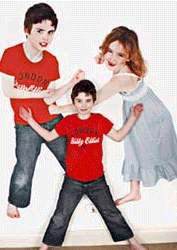 REVIVA - The Wallpaper Revolution!
Now print wallpaper, cutout figures, backlits and trade show signage with a normal wide format printer.
New Revivawall is a permanent yet removeable self-adhesive woven fabric, prints with bright colors and is water-resistant, opens up new business opportunities for wide format owners.
Order Now!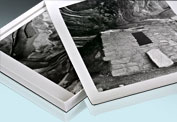 Now the darkroom is really dead.
Announcing Moab's Fabulous Colorado Fibre Gloss

Read More