The canvas industry is booming as ever larger wallspaces are demanding decoration without the high cost and clutter of traditional framing. Unfortunately this boom and its corresponding promise of riches has resulted in a decline in printing standards, longevity and advertising accuracy.

The issue is magnified by unscrupulous suppliers advertising their products as "The most Archival in the World" without any published attempt at longevity testing.

Fade testing of our European products is outlined in the document above but our canvas and coating products are tested at the IPI in the United states. GMS prints and coats all the test samples itself in Australia and submits these to the IPI for testing.

To our knowledge, GMS is the ONLY organisation to fade test canvas products in Australia. We test these products to the equivalent of over 100 years light exposure, not the cheaper 50 year test we have seen one Australian importer of Japanese non archival photo paper conduct. For the test results click, Fade Test Data for GMS Supplied Media

As we are a manufacturer of the product and not a small reseller, we assume responsibility for the tests and testing. GMS tests canvas without glass as it is made to be displayed in that fashion.

GMS believes the testing of cotton rag art papers has a limited value as in all cases the media will outlast the ink used on it.

Tests are conducted by the Image Permanence Institute (a department of RIT's College of Imaging Arts & Sciences). To visit the website of IPI click www.imagepermanenceinstitute.org

To begin, we test for fading that results from light exposure. These tests do not account for other causes of image failure which we now know can have a significant effect. Measuring effects from pollution (indoors and outdoors) and humidity are very difficult to quantify and are not addressed with fade tests.

GMS prints small colour patch images on each paper/ink to be tested. These color patches include the pure colors, neutrals (which are full mixes of all color) and combinations of two colors. When fading or other change has been recorded to reach a specific point, the sample is declared to have "failed". For instance, if the "Pure Cyan" test reaches a point of 30% deterioration, that is the "End-Point" for that sample, regardless of whether any of the other 11 patches has registered a decline. The bottom line: we are looking for the worst case scenario.

This does not mean that your image will "disappear", rather it will change a bit in shade which can be recognized by the human eye especially if you compare it to another identical images freshly printed on the same printer with the exact same settings as before.

Details

Illumination source - Cool white high intensity fluroescent light

Display intensity - 450 lux / 12 hours per day

Display conditions - 22°C ± 2°C and 50% Relative humidity ± 3%

Samples analyzed according to methods described in the standard, Imaging Materials - Stability of Color Photographic Images - Methods for Measuring, ANSI/NAPM IT9.9-1996. Calculations performed using the "half stain" correction method.

End-points (time where image "failure" is calculated) agree with the illustrative end-points chosen by ANSI/NAPM IT9.9-1996


Why does GMS use the Epson 9800 UC Inkset as the standard?

Each fade testing lab has a subtly different approach, mainly differing in temperature or light source. Most adhere to the 30% loss in density for the end point parameters. In lab tests that represent only one brand of ink its difficult to compare results from different manufactures on the same media.

Today there are high tech labs, which are truly independent of the ink makers being owned by either a paper coater or educational institution like Image Permanence Institute (IPI). You won't see speakers from these places rolled out to speak to the press at trade shows as there is no sponsorship money from the ink makers. In addition to the comparison of brands there is additional information such as the likely durability from windows light and other sources.

Quite recently the most respected European coater - Sihl - has published light fade tests which directly compare three major brands of Pigment ink. GMS uses Sihl testing for its Natural Canvas and Elite Fine Art Paper

A comparison of the ink makers is as follows: Information_durability_Professional_Photo.pdf

It can be seen from these tests and by examination of identical paper types that have been compared by other fade testing facilities, that Epson UC inks have a numerically lower value than either HP's Vivera pigments or Canon Lucia pigments.

GMS therefore publishes results of its products using Epson UC (K3) ink in the knowledge that this forms a lower bounds on the result and users of the other pigment inks will most likely have greater image permanence.




Specific test criteria for each paper
with Epson Ultrachrome Ink
Parameter
Patch Colour
End Point where failure (fade) is noted
Cyan Fade
Pure Cyan
30% Loss
Magenta Fade
Pure Magenta
30% Loss
Yellow Fade
Pure Yellow
30% Loss
Black Fade
Pure K Neutral
30% Loss
Magenta Fade
Red
30% Loss
Yellow Fade
Red
30% Loss
Cyan Fade
Green
30% Loss
Yellow Fade
Green
30% Loss
Cyan Fade
Blue
30% Loss
Magenta Fade
Blue
30% Loss
Cyan Fade
Composite Neutral
30% Loss
Magenta Fade
Composite Neutral
30% Loss
Yellow Fade
Composite Neutral
30% Loss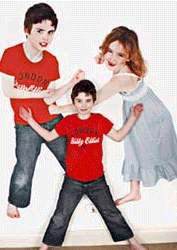 REVIVA - The Wallpaper Revolution!
Now print wallpaper, cutout figures, backlits and trade show signage with a normal wide format printer.
New Revivawall is a permanent yet removeable self-adhesive woven fabric, prints with bright colors and is water-resistant, opens up new business opportunities for wide format owners.
Order Now!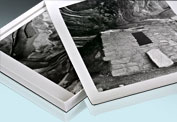 Now the darkroom is really dead.
Announcing Moab's Fabulous Colorado Fibre Gloss

Read More