Five vital questions to ask of any canvas printer before purchase

GMS is Australia's leading supplier of Inkjet Canvas and associated products.

We do not commercially produce canvas prints ourselves but provide all the equipment combined with education and training for high quality, environmentally friendly reproduction.

If you are considering purchasing a canvas print from the Internet and are unsure of the questions to ask the maker, we have published the five vital questions to ask of any canvas printer before purchase.



1. Does it have a protective coating?

Inkjet canvas prints MUST have a protective coating that is sprayed or rolled on them after printing. This coating dramatically extends the life of the image. In addition to the extension of print life the coating protects against minor scratches and chemical contaminates. It also considerably boosts the colour and adds gloss (optionally) to an otherwise matt media. An unprotected canvas print can last as little as a few weeks if contaminated by household chemistry.

2. Is it a true pigment inkjet print?

Only pigment inkjet technology has the proven fade resistance (over 100 years) to make a canvas print a true investment. Many chain stores have come to use cheaper signage printers that use solvents to make canvas prints. Often these have as little as four colours whereas the top quality pigment inkjet workers use between 7 and 12 colours.

3. Are the stretcher bars made of regrowth pine?

The single largest cost outside the canvas itself is the stretcher bar and it is also the greatest area of cost cutting. Since the bar touches the canvas, the material must be known to be low in tannin or tannic acid. Woods such as KD Pine and Hoop Pine (untreated) are used by GMS as they are low in acid content. Watch out for woods with yellow or red colours as this acid may leach out over time into the print back.

Finally the wood should be marked "regrowth" or plantation and the bars made for inkjet with rounded edges and other features. Please avoid woods such as Indonesian rainforest Meranti. Although less expensive there is no reason to ruin the environment for saving a few cents

4. What is the canvas type and has it been tested for longevity?

The canvas printing industry is rife with misinformation regarding canvas types. Many people using Polyester/Cotton blends falsely advertise them as 100% cotton because they believe the product will sell better.

While neither type is preferable and both have their valid commercial uses, what is important is - has the maker done or is in the process of doing - light stability tests to the recognised standards?

It is also common for some operators to falsely quote the fade resistance of the ink as displayed on some other media or under a pain of glass. Canvas is not protected by glass.

5. And most importantly - Is the media acid free?



If there are any doubts regarding the supply of a quality canvas result, please call our switchboard on 1300 GICLEE quoting your requirements and location. GMS will advise a suitably qualified practitioner.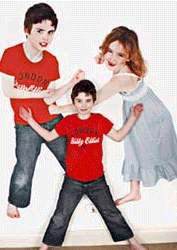 REVIVA - The Wallpaper Revolution!
Now print wallpaper, cutout figures, backlits and trade show signage with a normal wide format printer.
New Revivawall is a permanent yet removeable self-adhesive woven fabric, prints with bright colors and is water-resistant, opens up new business opportunities for wide format owners.
Order Now!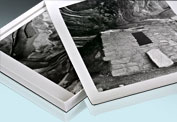 Now the darkroom is really dead.
Announcing Moab's Fabulous Colorado Fibre Gloss

Read More