HOW TO USE ICC PROFILES
For detailed instructions and explanation of .icc profiles, click How-to-Use-ICC-Profiles.pdf

HOW TO DETERMINE INK DENSITY
To determine optimal ink loading, click Epson Ink Density Chart

FREE .ICC PROFILING SERVICE
If we do not have your printer and media combination then ask about our profiling service. Free with any purchase of our media.

TO DOWNLOAD .ICC PROFILES
Click on your printer/ink combination link then click on the download link.

For MAC users, if you experience difficulty downloading the profiles, hold the
<<OPTION>> key & click the download link.
For Windows XP users, once the file is downloaded, right click the file & click
<<Install Profile>> to automatically install the profile to the icc profile folder.



FOR PROFILES CREATED BY THE MANUFACTURER
Visit the profile library of the paper manufacturer by clicking the links below.


GICLEE MEDIA SUPPLIES PROFILE LIBRARY
Giclee Media Supplies are widely respected for their colour management and profiling brilliance. Click your printer/ink combination below for profiles created for both GMS specific media products as well as some brand name media. Remember your printer may require custom profiling for optimal results, if so contact us to make use of our free profiling service.

HOW TO READ OUR PROFILE NAMES
.icc profiles need to be used with the correct printer settings. Therefore GMS will add these in the .ICC filename, e.g. IJPPE_9800_MK_720_CANVAS-10 will mean:

IJPPE - InkjetPro Premium Edition (abbreviated media product name)
9800 - Epson 9800 wide format printer
MK - Matte Black ink (Epson only)
720 - printing quality 720 dpi
high - high speed on
canvas - media setting 'CANVAS'
-10 - ink density loading reduced by 10%

For profiles you can't find, please contact us.

| | | | | |
| --- | --- | --- | --- | --- |
| Epson .ICC profiles | | Canon .ICC profiles | | Hewlett Packard Profiles Coming Soon |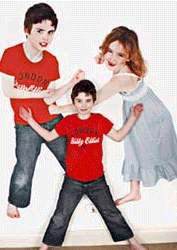 REVIVA - The Wallpaper Revolution!
Now print wallpaper, cutout figures, backlits and trade show signage with a normal wide format printer.
New Revivawall is a permanent yet removeable self-adhesive woven fabric, prints with bright colors and is water-resistant, opens up new business opportunities for wide format owners.
Order Now!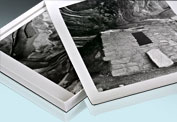 Now the darkroom is really dead.
Announcing Moab's Fabulous Colorado Fibre Gloss

Read More